The Team
We're big on people here at Gladdy. We recognise that it's the people who inject life and soul into our label and we couldn't feel more blessed to have the team that we do. Friends and family (and dogs...) form an important part of the wider Gladstone Vineyard community, especially during vintage when all the troops rally together to lend a helping hand! Throughout harvest we have a dynamic atmosphere filled with fun and laughter, as well as a pretty healthy dose of absurdity... And of course no harvest day is complete without a home-cooked lunch and some vinos in the sun! Year-round our core team consists of these legends...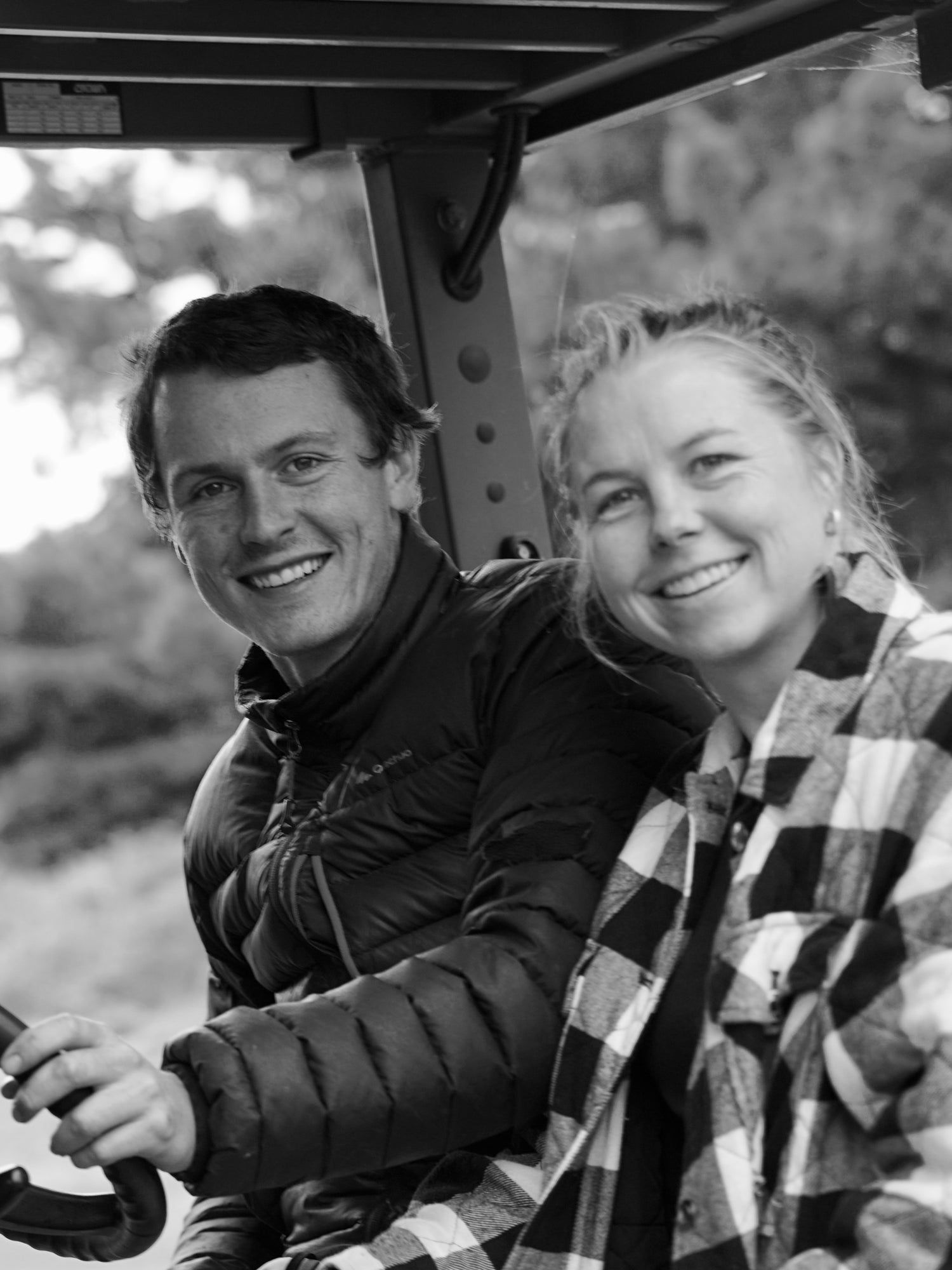 Monty - The Wine Whisperer
 A true local, Monty grew up on his family's sheep and beef farm in the south Wairarapa with his siblings, a menagerie of birds, dogs, and even a pet emu who could often be found watching TV in the living room. His winemaking experience comes from a melting pot of environments from Margaret River, Burgundy and Napa Valley, to Marlborough and Waiheke Island. When not making wine Monty can be found getting barrelled (*apparently*) at his local surf break, or fly fishing at the river with his wife Jess and their beloved dog, Inky.
 Jess, pictured here taking a joyride on the forklift, keeps the fridge in our smoko room stocked up with epic slice which, we would argue, is almost more important than Monty's job. 
Ollie - The Vine Whisperer
Ollie has been the stalwart of Gladstone Vineyard that has kept its heart beating for many years. He has an intimate knowledge of natures cycles and is an expert at making a decision on the fly when he feels that wind change! When not managing Gladdy's vines and all that this encompasses, Ollie gets a kick out of encouraging his dog Scooby to mount Monty's pedigree Spaniel, or teaching his son the art of the lasso (sometimes not so successfully…).  Ollie lives locally (we mean it when we say he lives and breathes this land), and cares for his own farm alongside his partner and their son.
Tina - The Grape Guru
Tina is Ollie's other (*ahem* better...) half. She comes to us with well over a decade of experience in vineyard management, and we're incredibly fortunate to have someone so capable lovingly tending to our vines. A harder worker we've seldom come across, and her attitude towards work and life remain equally positive. Whether we're after a good laugh, her viticultural opinion, or one of her stories of motherhood to entertain us, we know we can always count on Tina!
Deidre - Cellar Door and Events Manager
 Where do we even begin with Deidre? The newest member of our team, we are somewhat fascinated by Deidre; she has stories for daaays! She's done it all, journalism, farming, hospitality, motherhood, grandmotherhood… just to name a few. She's lived all over New Zealand, including a number of years spent living on her yacht in Auckland, and, most recently in Endeavour Inlet in the outer Queen Charlotte Sounds. On top of that, Deidre has a passion for the magic of wine, and has worked in numerous cellar doors and vineyards, qualifying her as an expert for sharing our wines with you. She has a winning smile with a personality to match and, accompanied by her beautiful spaniel Rigby, complements our quirky wee GV team marvellously.
Karen - Operations and Finance Manager
Karen keeps us all sane. Thank goodness, someone has to! Karen is a wizard when it comes to running the behind the scenes of our business and we certainly don't use the term 'Operations Manager' lightly when it comes to all that she does. Karen graced the grounds of Gladstone Vineyard with an extensive background in event management making her a total connoisseur when it comes to, well, pretty much everything. From customer relations, to accounts, marketing and sales, she is a true jack of all trades. In her own words, she's our "everything but the dishes" lady.